Blog: Innocities are contributing to the green transition
The key areas in the development of InnoCities in Finland range from sustainable industry and energy systems, smart urban solutions to health and wellbeing technologies.
Every second Finn lives in one of the InnoCities. That is, in one of the cities that have agreed together with the state to develop their own strengths so that they can meet the challenges of the green and digital transition. The agreements are called ecosystem agreements. You may have already come across the concept "InnoCities". Officially, we use the common title Innovative Cities and Communities.
In the ecosystem agreements, the cities have identified one to four priority areas to be developed in cooperation with their stakeholders and the Ministry of Economic Affairs and Employment of Finland. The focus ranges from sustainable industry and energy systems to smart city solutions and health and wellbeing technologies.
Each InnoCity supports and accelerates the green transition in its own way. Somewhere a new sustainable district is being developed, such as Hiedanranta area in Tampere city whereas in Turku in the shipyard area, the target of development can be a sustainable maritime industry. It is clear that development needs, customs and the city's role as part of the development work differ between cities.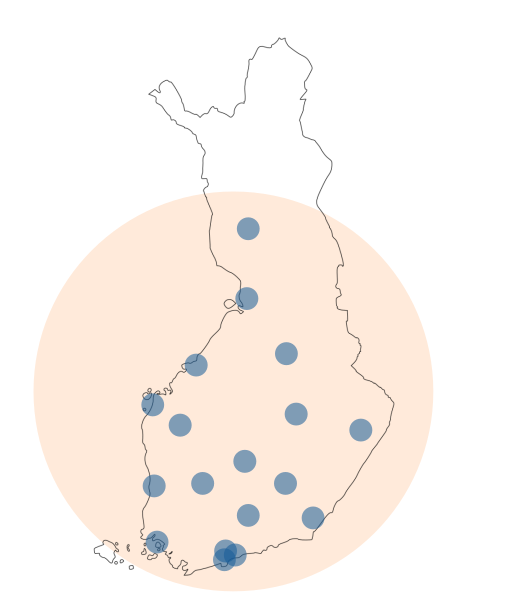 Such a diverse initiative calls for a support structure
InnoCities is composed by 16 ecosystem agreements. As a rule, every university or university center city has its own agreement. Helsinki, Espoo and Vantaa share a common one. Lappeenranta's agreement includes Imatra where Sotkamo is included in Kajaani's agreement.
For the sake of simplicity, I have used the term city, although in the above-mentioned cases the more correct term would certainly be urban area.
The northernmost InnoCity is Rovaniemi when Espoo is the southernmost. The easternmost is Joensuu and the westernmost is Vaasa. Measured in terms of population, the difference between the smallest (Kajaani) and the largest (Helsinki) city is about 624 499 inhabitants. So far whe have identified 114 different cooperation parties in the agreements, each contributing in their own way to the contents of the agreement and its implementation.
The task of the Pirkanmaa association is to coordinate the implementation of the ecosystem agreements nationally. In practice, this means that we help in the creation of uniform financing practices and monitor the financing of city project portfolios. We support the innovation ecosystem developer networks, encourage benchlearning and communicate about the whole initiative.
InnoCities in brief
Finnish cities with a university or university center.
Joint ecosystem agreement with the state. Agreement of certain priority areas.
The focus areas of the Tampere ecosystem agreement are Sustainable industry X (SIX), buildings, energy and infrastructure, and digital health solutions.
The contracts are for 2021–2027 and the implementation of the contracts is mainly financed from ERDF.
The task of the Pirkanmaa association is to develop uniform financial practices, maintain a situational picture of the implementation, support learning between actors and communicate about the whole initiative.
Riina Pulkkinen, Development Manager
riina.pulkkinen@pirkanmaa.fi
Photo: Visit Tampere, Laura Vanzo